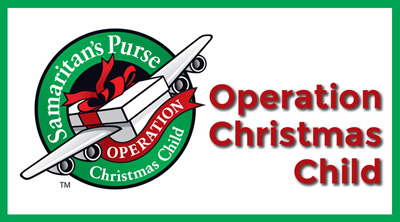 Operation Christmas Child is a great way to involve your kids and family in reaching the world. Every fall leading up to mid-November we collect Christmas gift boxes that are then delivered by Samaritan's Purse to many 3rd world countries before Christmas. They add appropriate children's materials that will explain the true meaning of Christmas in the children's language.
What do I include in my box?
Watch a fun demonstration of how to pack a shoebox...
Here is a PDF of what to include with even more specifics…
Operation Christmas Child – How to Pack a Shoebox
If you would like to personalize your box you can download the following Coloring Page to tell a little about yourself…
Operation Christmas Child Coloring Page for Your Shoebox
Thanks everyone for making this year's CIP Operation Christmas Child Shoebox a success!